AEE Conferences & Events
International & Regional
AEE International Conferences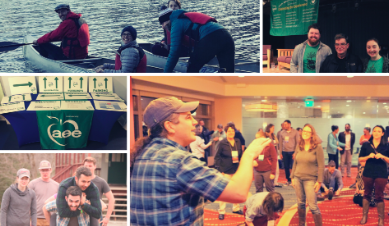 Annually, AEE hosts an International Conference that brings attendees together who share the goals of promoting, defining, developing, and applying theories and practices of Experiential Education. AEE is proud to host these leading events annually for present and future experiential educators and practitioners from around the world. 
"I always leave AEE conferences with my head exploding with new info, ideas, and concrete tools to use in my practice and in life, as well as my heart overflowing with the love, kindness, and compassion this community of incredible educators, therapists, and practitioners brings to life in our community. " -2018 Conference Attendee
Join us in 2023 for Our 51st Annual Conference!
We'll be celebrating our 51st Conference in Madison, Wisconsin from November 2-5 2023!
---
---
"This conference always serves as an energizer for me at a much needed time in the semester.  I always feel more connected and grounded after the conference." - 2017 Conference Attendee
---
Regional and Professional Group Conferences
The Region and Professional Group Conferences are aimed at furthering experiential education in its many applications. They seek to strengthen the Association and the field by bringing together its practitioners, supporters – members and non-members – to work, talk, network, play, and learn together in a unique environment that is solely devoted to these objectives and thoughtfully designed for these purposes.
SAVE THE DATES!
2023 West Region: March 3-5 Santa Cruz, CA
2023 Mid-Atlantic Region: March 24-26 Bruceton Mills, WV
2023 Southeast Region: Feb Location: TBA
2023 Heartland Region: April 14-16 Monticello, Iowa
2023 Asia-Pacific Region: June 13-15 Singapore
"At my first AEE International Conference, I led a round of 'Screaming Toes' in an elevator. We had the best time! It was the first time I spontaneously played with a group of adults I'd never met before. I had found "my people." - Evan, Member since 2010
---

There are plenty of opportunities to Volunteer at our International and Regional Conferences!
Click here to learn more and submit our Volunteer Interest Form