Webinars
Upcoming Webinar:
Risk Management Advances In Outdoor Adventure: A Historical Perspective from Maharashtra, India

Wednesday, March 23 1:00PM Eastern Daylight Time
Free for all Members and Not-Yet-Members!
Join veteran mountaineer and outdoor educator Shantanu Pandit of Outdoor Pandit, along with Jeff Baierlein of Viristar, to hear the story of the evolution of safety and quality in outdoor and adventure programs in India over the last 40 years, focusing on Shantanu's home state of Maharashtra.
About Shantanu: Shantanu grew up in a suburb of Mumbai, India, and today lives in another which is surrounded by thick woods. He has been hiking & rock climbing since college days, and has been part of a few peak climbing expeditions in the Himalaya. After working on an outdoor education program for children and running an adventure travel company Shantanu turned full time to outdoor education. He then worked as a NOLS instructor for more than a decade on a variety of programs. He also is an instructor of wilderness first aid with Aerie Backcountry Medicine which offers courses in India through an association with Hanifl Centre, India. Currently, he facilitates outdoor management development programs for business organizations and offers consultancy to outdoor & experiential education organizations in areas like programme content, documentation and staff training. For years Shantanu has been involved in voluntary efforts for enhancing safe practices outdoors. Recently, he co-founded a non-profit organization that has brought out elaborate safety guidelines and has also influenced a government regulation introduced in his home state.
About Jeff: Jeff Baierlein is an author, consultant, trainer and speaker on outdoor program risk management, environmental education, and business leadership. Jeff directs the consultancy Viristar, providing safety, curriculum design, and strategy consulting and training to experiential education and other organizations world-wide. He is the author of Risk Management for Outdoor Programs: A Guide to Safety in Outdoor Education, Recreation and Adventure. Jeff is an outdoor safety expert witness, an adventure program reviewer with the Association for Experiential Education, and the former Executive Director of both the Boojum Institute and Outward Bound Baltimore Chesapeake Bay. He has served on numerous Boards and given presentations in 16 countries, where his work has been translated into Russian, Vietnamese and Chinese. Jeff has degrees in Environmental Education, Human Development, and Business Management, and lives in Seattle, Washington USA
---
Check out over 65 FREE Webinars on our YouTube Channel!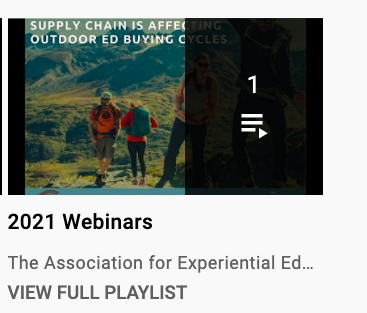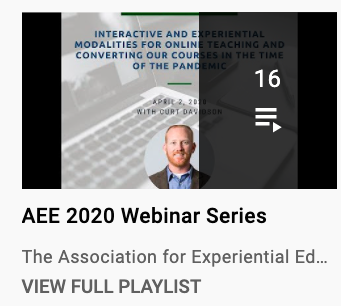 We'd love to work with you! Do you have an idea for a webinar that would be beneficial to the Experiential Education community? Would you like to share your knowledge in a particular subject area? If you have an idea for a future webinar you'd like to host, please reach out to sherry@aee.org.