The Social Justice Taskforce (SJTF)
Jump to: About the Taskforce | Meet the Taskforce | Get Involved! 
---
About the Taskforce

AEE's Social Justice Task Force (SJTF) has the duty to help ensure AEE is doing all we can to realize our value of social justice. This can show up in many different ways including but not limited to:
Evaluating potential partnerships with other businesses and organizations to see if they share our values
Reviewing organizational documents to ensure we are using appropriate language, we are accessible to all and that we are holding ourselves to our values
Providing resources for our members who are looking to align with social justice issues
Reviewing of conference plans to ensure sound choices around diversity, equity and inclusion are being made.  
The Social Justice task force, staff and the Board have created a goal:
To move past performative action into equitable practices.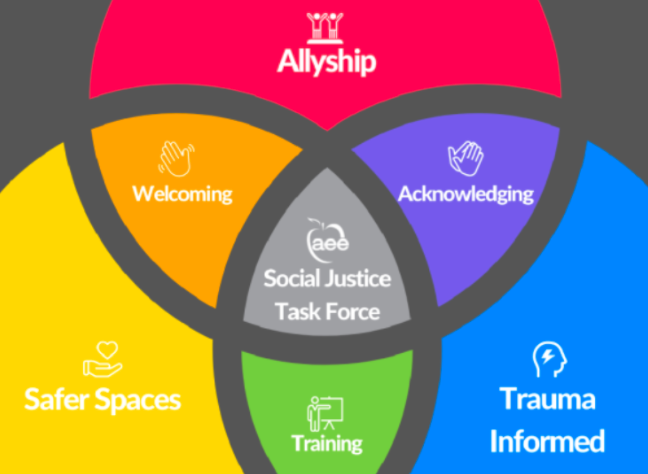 AEE Inclusion, Diversity, Equity and Accessibility (IDEA) Statement

AEE's mission commits us to "building an inclusive and accessible community for experiential education professionals".
Our organizational value of social justice is defined as: 
Supporting people of diverse backgrounds, beliefs, and cultures is an integral part of developing successful experiential education programming.
Given that, we want to reaffirm that AEE is committed to being an organization where folx belong and are accepted for who they are. With this statement, we reaffirm our commitment to ensuring our members feel they belong in our community. 
Additionally, as a membership organization, we are committed to providing resources and support to our members to develop and operate socially just and inclusive programming.
To that end, we the AEE staff and Board of Directors: 
Commit to diversity, working to bring members of many backgrounds and from around the globe into our organization and into leadership in our organization
Commit to inclusion, taking intentional steps to support our membership in working across differences of race, culture, gender, and more
Commit to equity, by creating systems to expose inequities in order to make opportunities within our field accessible by all.       
We acknowledge that creating and sustaining an organization where all folx belong will be uncomfortable at times, but we're excited for foundational work that is necessary to fulfilling the full spirit and intent of our mission and values. 
We also know the above commitments require action, and we will follow up with plans to integrate this work into all our conferences, operations, programs, leadership, and other efforts.
---

Meet the Taskforce

The SJTF is composed of passionate community members dedicated to ensuring that AEE is leading with our values of inclusion, diversity, equity, accessibility. Get to know the team below!
Mo Kappes
she/her/hers
Ho-Chunk Land
University of Wisconsin-Madison, ALPs Advisor
Why I joined the Social Justice Taskforce:
Equity and belonging are an essential component of the work that we do and that needs to be reflected in all that AEE does and it currently isn't. I think it is missing from our programs as well and I want to be part of the change that makes our programing and the AEE organization a place where people feel like they belong.
Why I do Social Justice Work:
I want to be a member of a community where people feel like they belong and in order to get there, we need diversity, to be inclusive, and to be equitable. None of us will be free until we are all free. I want that. I am using my sphere of influence to move my workplace and AEE to a place where all people belong.
Bobbi
she/her/hers
NE Ohio/Kaskaskia & Erie
Life Adventures for All, CEO and Center for Innovative Practices, CWRU, Co-Director
Why I joined the Social Justice Taskforce:
AEE is my professional home and I felt like the SJTF would be the best place to both clarify my convictions around social justice and put those ideas into action. Having worked in a variety of roles and committees within AEE over the last 25 years, I'm confident that we are capable of self-exploration and organizational improvement. I've been encouraged by the interest and support of the staff and the board of directors and look forward to figuring out how our mutual efforts can create more inclusive, diverse and equitable space, programming and opportunity, not only within AEE, but also how that can and will impact the world around us.
Why I do Social Justice Work:
During a working AEE board retreat in February 2017, we visited the MLK Memorial in Washington DC. I was feeling distressed and overwhelmed about the recent presidential election, stunned that so many Americans voted for a racist, sexist, incompetent man for president. I loved working with the AEE BOD and had been focused on expanding our influence in education and behavioral healthcare, thus our presence in DC, but suddenly those goals seemed inadequate. As I wandered around the MLK Memorial, surrounded by the moving quotes carved into huge marble walls, I began to feel, not better, but more directed.Each quote offered me something different. I clung to hope with this one: "We shall overcome because the arc of the moral universe is long, but it bends toward justice."
Washington National Cathedral, March 31, 1968.And I considered how to make a more personal commitment with this one: "Make a career of humanity. Commit yourself to the noble struggle for equal rights. You will make a better person of yourself, a greater nation of your country, and a finer world to live in." March for Integrated Schools, April 18, 1959.I left that retreat, still heavy with grief, but inspired to do something that would contribute more directly to the fight for justice and equity. Supported by the AEE board and CEO, I crafted a letter to the membership about a launching the SJTF. The response was encouraging and we launched the SJTF in June 2017 with Sahibzada Anees, Chey Davis, Bix Firer, Danny Frank, Roberto Gil, Mo Kappes, Micah Leinbach, Marilyn Levin, Nina Roberts, and Geri Paredes Vasquez. We spent the first year "cleaning house" and combed through AEE's policies, procedures, and internal documents aligned with our (then) new mission, vision and values as well as our aspirations to be more inclusive, diverse and equitable.The SJTF membership has changed over the last few years, but not the passion or commitment to evolve into our best selves. I'm excited about expanding our work into projects with the general membership and targeting our interface with the larger world including our conferences and website. I'll leave you with this quote by Margaret Meade: "Never doubt that a small group of thoughtful, committed, citizens can change the world. Indeed, it is the only thing that ever has."Please join us in creating a more just and compassionate world for all. -Bobbi 
Sky Gray
She/her/hers
Pictured: From left to right our friend, mentor, ally Dr. Nina Roberts
and my daughter Sarita J Gray. All social justice champions!
The Sonoma County Human Services Department sits on the ancestral land of the Pomo, Wappo, and Coast Miwok People and I acknowledge and honor with gratitude the land itself and the Indigenous People who have stewarded it throughout the generations.
Program Manager, Valley of the Moon Children's Center / Sonoma County-Family Youth and Children's Lead Adverse Childhood Experience and Trauma Informed Care Trainer/ resiliency self-care group facilitator
Why I joined the Social Justice Taskforce:
To further advance, elevate and deepen the social justice & racial equity/inclusion work that AEE has embraced and promoted over the years.
Why I do Social Justice Work:
As we know, and as we accept, white supremacy and systemic racism permeate every American institution, including progressive educational associations such as AEE and their organizational and individual members, I strive to continue being a change agent and champion of social justice, equity, diversity and inclusion. Growing up across the river from Washington DC, and having been a part of many protests and rally's (woman's rights, civil rights, gay rights, HIV/AIDS activism, etc.), I was exposed to civil unrest and sought to better understand why the playing field in all its forms was not level and that racism and other -ism's were rampant. These early influences, and my own lived experiences, created a trajectory in my career and in my life that have inspired me to fully embrace the concept that Maya Angelou stated so wisely:
"Do the best you can until you know better. Then when you know better, do better"
Lise Brown
she/her/hers
Winnipeg, Manitoba, Treaty 1 Territory
Momenta Inc.
Why I joined the Social Justice Taskforce:
To create a safer, welcoming spaces at AEE.
Why I do Social Justice Work:
To acknowledge past harms and truths and to create safer, inclusive spaces now and into the future.
Christine Lynn Norton
she/her/hers
Tonkawa/Karankawa Land
Texas State University, San Marcos, Texas, Professor of Social Work
Why I joined the Social Justice Taskforce:
My own experiences with sexism, witnessing numerous microaggressions against my BIPOC and LGBTQ colleagues, and the lack of diversity in the field of experiential education have motivated me to join the SFT in order to address systemic barriers to diversity, equity, inclusion and belonging in our field, beginning with the Association for Experiential Education.
Why I do Social Justice Work:
As a social worker, I have been trained in systems theory and value the reciprocal relationship between a person and their environment. Systemic oppression creates disconnection and trauma and threatens human and planetary well-being. If I only bear witness but do nothing about it, I am not "paying my rent for living," to quote Marian Wright Edelman, the founder of the Children's Defense Fund.
---
Get Involved!


There are many ways to get involved with the Social Justice Taskforce at AEE including:
Recommend a resource that we can provide to the community
Provide input or feedback
Make a request or ask a specific question
Report a concern or incident
Volunteer to help complete specific short-term tasks within committees!
Fill out the form below (click the green button) and provide a little more information about you and how you're hoping to get involved and a member of the SJTF will be in touch within 1-2 weeks! 
Latest News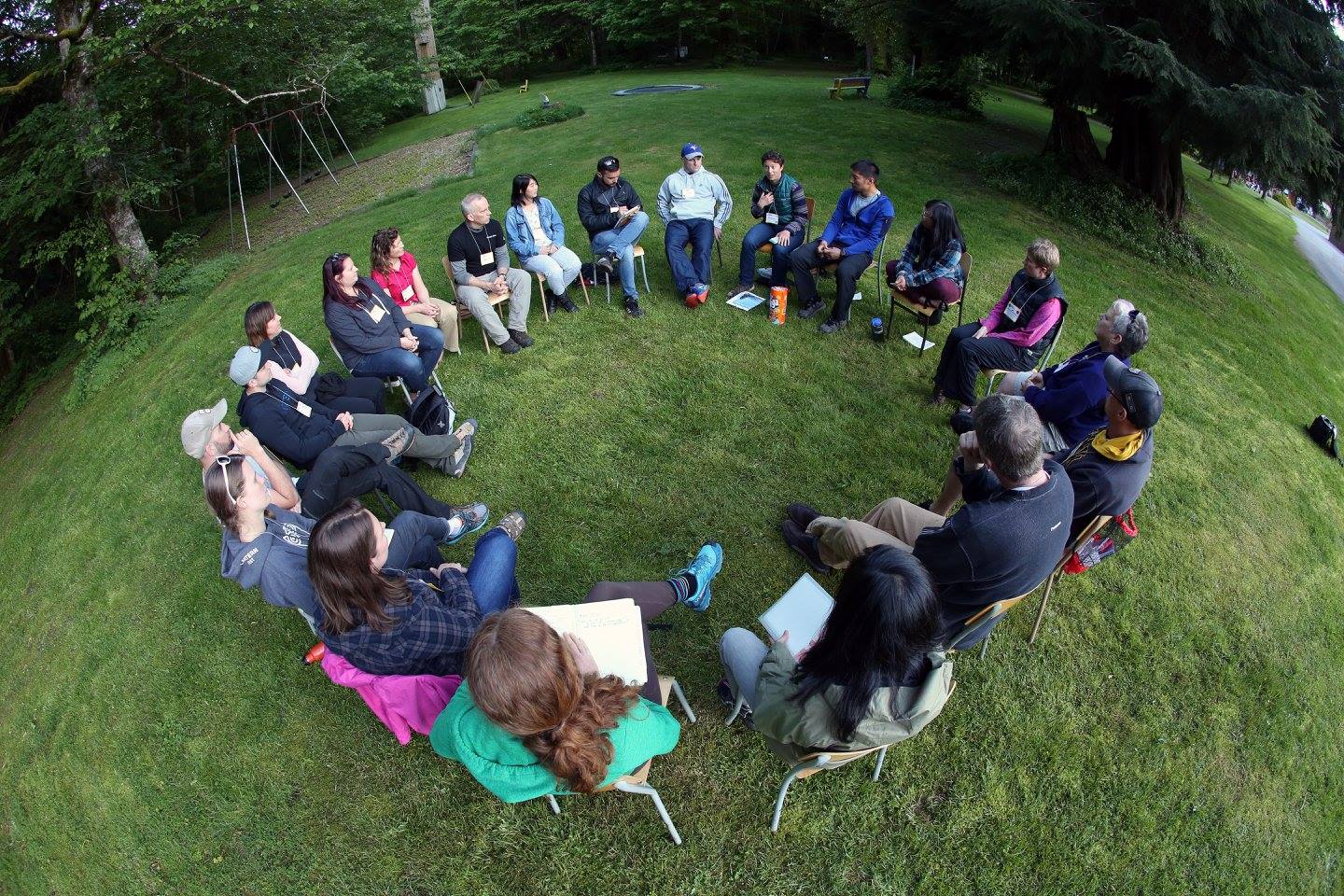 Network with educators in your area at Upcoming Regional Conferences & Events