AEE Mid-Atlantic Region 
2023 Regional Conference
Mid-Atlantic Regional Conference - March 24-26
West Virginia University's Outdoor Education Center
Bruceton Mills, WV
Registration
$98 without lodging
$155 with lodging
LODGING:
Onsite lodging: 2 nights (only 30 available)

On-site lodging is purchased with registration (Spots are limited). Located in the center of campus, the Adventure Basecamp Overnight Facility includes 4 overnight yurt structures. Arranged to accommodate up to 12 people per unit, each yurt is equipped with bunk-beds, electricity and heat. Multiple outlets are available along the outside interior wall. Guests will also find that each yurt is equipped with a center communal area that consists of multiple Adirondack chairs and tables. Dimmable lights and outside seating are also available. Each yurt is located within a very short walk of all conference program areas. Bathrooms, showers, picnic areas  and fire rings are also located within within feet of these yurt facilities.     https://adventurechallenge.wvu.edu/our-facilities/adventure-basecamp-overnight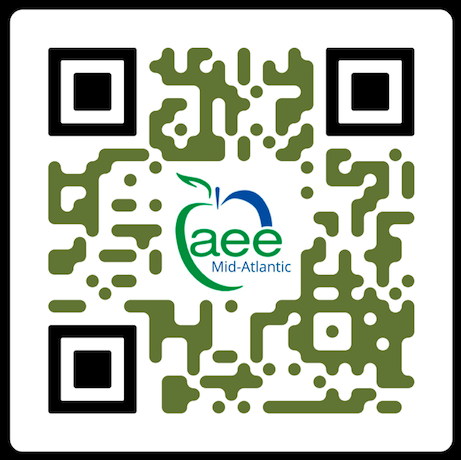 ---
About the Mid-Atlantic Region:
The Mid-Atlantic region unifies individuals from a variety of fields; school and colleges, museums, therapeutic recreation centers, camps and conference centers, outdoor recreation venues, etc.
We, as the Mid-Atlantic Region, strive to promote and support the vision of AEE. This vision connects a global community of educators and practitioners, and it expands their capacity to enrich lives through Experiential Education. AEE is currently leading the way in Experiential Education nationwide and they will need our continuous support and efforts in making a difference in the lives of many.
We hope that you will join our AEE family in attending conferences, webinars, local events, and more. This is the valuable opportunity to create a wider network, grow as a professional, and to spread the word about AEE.
We look forward to meeting you soon!
Follow the Mid-Atlantic Region on Facebook to get the latest news and updates!

The Mid-Atlantic Region covers the following states: Delaware, Maryland, New Jersey, Pennsylvania, Virginia, West Virginia, and Washington D.C.
Have questions? Want more information? Email the Mid-Atlantic Region Committee Here: aeemidatlantic@gmail.com
---
2022 Regional Council
Chair
Lorilei Dreibelbis
Past Chair
Colleen Williams, M.Ed. 
Secretary
David Heath
Treasurer
Jess Rothe
Schools & Colleges [The Rocking Chair]
Fred Pierson, MS
Member at Large
Nicole Sathre
Young Professionals
Sarah Shuler
Therapeutic Adventure Professional Group 
VACANT
Membership
VACANT
 Journal Editor
Matthew Cummiskey
Faculty Convener
CJ Belknap
---
 Have questions? Want more information? Email the Mid-Atlantic Region Committee Here: aeemidatlantic@gmail.com