Northeast Region Advisory Council
The Northeast Regional Advisory Council (NERAC) is a team of volunteers dedicated to supporting change and growth within the realm of EE through the offerings within AEE NE. As a team, we hold multiple goals that we strive for through our engagement and leadership within the region. 
The Northeast Region covers the following states and provinces:

Connecticut, Massachusetts, Maine, New Hampshire, New York, Rhode Island, Vermont, Quebec, Atlantic Provinces
We seek to:
Represent AEE's values in the Northeast, and support its growth and impact as an organization.
Recognize and address current needs for attention and change within the Northeast by:

Initiating strategies and actions to affect change in these areas
Advising and supporting the Host Committee in reaching these objectives at Annual NE Regional Conference.

Fuel the expansion and diversification of groups and perspectives within AEE.
Foster connections within our region.
Create opportunities for members to develop within this field.
Roles and participation in the council rotate to support allow for the capacity and perspectives needed to responsibly serve AEE in this way. Questions? Interested in getting involved? Email us at aeenortheast@aee.org
---
2021 Members
Hutch Hutchinson
Experience Based Training and Developemnt (EBTD) Liaison
Boston University
Dr. Paul J. (Hutch) Hutchinson is a Senior Lecturer in the Management and Organizations Department of Boston University Questrom School of Business where he teaches in both the undergraduate and graduate programs. Hutch began his work in adventure-based education as a student at Gettysburg College in the 1990s before heading to Minnesota State University-Mankato for a Masters degree in Experiential Education. He earned his Ph.D. in American and New England Studies at Boston University and his research focuses on the relationship between culture and pedagogy, particularly arguing that the experiential education movement resulted from changing perspectives of youth and wilderness in America between the 1830's and 1920s. The majority of Hutch's teaching is now focused on adult learners and organizational development, helping students to become more compassionate, mindful, and effective team members as they collaborate to build more ethical organizations.
Sharon Gagne

Member Services
Hi I am Sharon, I am a Licensed Professional Counselor, a Nationally Certified Counselor, and a Nationally Certified School Counselor. I have worked with teens and families in a variety of setting from the inner city schools and agencies, hospitals, youth services, public and private schools, and private agencies. I have conducted individual, group, family and crisis counseling. I love facilitating adventure based counseling groups. It is awesome to see the learning and growing that students and clients make when given a challenge and they accomplish it. Besides being a counselor I love to be outside and take photos and have my own company Sunshinelife sgagne. I also love to travel, camping, biking, hiking, whitewater rafting, going to the theatre and most of all love the beach!
Jiin Cruz

He/Him/His
Member At-Large
As an artist trained at Massachusetts College of Art and Design in Boston, Jiin brings deep consideration and intention to his work, minding the ways that details overlay to create visual experiences that inspire thought and feeling. Since 2009, he has brought this ethic to his work as a facilitator, designer, and director of experiential youth programs. Drawing from his own experiences and relationships built throughout his career, Jiin increasingly leads not only with a concern to investigate social and cultural dynamics in a classic sense, but to expand the accessibility and justice of this powerful form of education. On NERAC and elsewhere, his work calls attention to the ways the field of experiential education can and must consider intersectionality and cultural representation if it is to include people of different backgrounds equitably and effectively, and meet its most fundamental goals with integrity.
Rae Sherren
Member at Large
The Adventure Group
Rae began her EE career in 2006 coordinating an after-school drop in for inner city youth. Through her 15 years (so far) with The Adventure Group she has also supervised summer day camps, facilitated life skills classes, given career development support, and provided outreach work to PEI's most vulnerable population. The most fun she has is providing personal growth and teambuilding workshops utilizing the organization's ROPES Course. She would say one of the best parts of her job is seeing people push themselves outside their comfort zone to realize their inner strengths.
Devin Farkas

He/Him/His
Member at Large
Devin is committed to delivering and increasing access to transformative experiential education. In his work this is done primarily through outdoor and wilderness based education, technical skills instruction and outdoor educator training at the collegiate level. He holds a Masters of Science in Outdoor Education from the University of Edinburgh. He has over 10 years of professional experience in the field, which all started with an introduction to AEE at an international conference in 2008. He is excited to work as a member of NERAC to facilitate connections within the region that help those new to the field develop their skills, and those who've worked in the field for a long time continue to develop and examine their practice.
Keith King
Curmudgeon
---
Northeast Region Awards
Josh Miner Dialogue  and  PICOUP Award
---
THE JOSH MINER DIALOGUE
In 2001, the Northeast Regional Conference hosted Josh Miner as one of the keynote speakers.

As a founding trustee of Outward Bound, Josh was instrumental in bringing the experiential philosophy of Kurt Hahn to the United States. Conference attendees were fortunate to hear Josh's vision and passion firsthand, as he shared stories, metaphors, and lessons of children, curiosity, and character. Josh passed away nine months later.

In an effort to capture the essence of the wisdom he shared, in 2003 the Northeast Region Advisory Council established the Josh Miner dialogue series. The series consists of a public undefined dialogue or conversation between the years' honoree and another professional in the field. The "interview" traditionally takes place during the Northeast Regional Conference. This format gives conference attendees a chance to get to know the honoree in an informal setting that often reveals best practice advice and nuggets of wisdom, as well as personal stories and mistakes to avoid.

The Northeast Region Advisory Council in conjunction with the Regional Conference Host Committee selects the Josh Miner Dialogue Series honoree.

2021 Honoree - Sanford Tollette
Serving as Joseph Pfeifer Kiwanis Camp's Executive Director for over 45 years, Sanford Tollette has transformed a Camp reserved primarily for underprivileged white boys to a Camp open and dedicated to helping troubled youth of all races and genders. In 1988, E.D. Tollette expanded from summer adventure programming to year round programming with the addition of the academic Alternative Classroom Experience (ACE). ACE helps 150 at-risk children each year turn their lives around through an intensive residential educational program.
Future Honorees
Do you have a suggestion for a future honoree? The Northeast Region Advisory Council is interested in hearing from regional members about who they believe would be a good candidate for recognition as the Josh Minor dialogue series speaker. If you have a suggestion, please read and fill out this form and send it to the Northeast Region Chair.

Past Recipients

2020 Katherine Kennedy
2019 Jasper S. Hunt
2018 Mike Gass
2017 Laurie Gullion
2016 Dick Prouty
2015 Jed Williamson
2014 Nicki Hall
2013 Hendricks Davis
2012 Karen Warren
2011 Rob Rubendall
2010 Lance Lee
2009 Jim Schoel
2008 Pam McPhee
2007 Craig Dobkin
2006 Keith King
2005 Phil Costello
2004 Dan Garvey
2003 Karl Rohnke


---
Person In Charge Of Unlocking Potential
Michael Gessford will be remembered for his playful spirit, his dedication to the field of experiential education and his kindness and generosity. Mike possessed a unique way of empowering others to achieve their best. In a world of people so quick to offer answers; Mike asked questions. His confidence in others abilities and his endless pursuit of knowledge urged those around him to dig deeper within themselves. Mike was a perceptive educator who gave the world his all and asked for nothing in return. PICOUP is a phrase Mike himself came up with to describe his "job title": Person In Charge Of Unlocking Potential.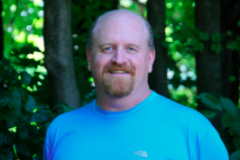 This award is dedicated to the memory of Mike Gessford (1962-2011), the original PICOUP. Mike would have liked to remind everyone, "follow your bliss."
The PICOUP Award will be given each year to someone in the Northeast AEE community who selflessly gives of themselves for the betterment of others. This award is to honor an individual who has the ability to empower others to achieve their best regardless of personal gain.
Past Honorees
2018 - Anna Kay Vorsteg
2017 - Jim Grout
2016 - Kamora Herrington
2015 - Keith King
2014 - Brent Bell
2013 - Hutch Hutchinson
2012 - Beth Sayers 
2011 - Mike Gessford
2021 Regional Conference Host Committee
Brett Billings
Convener
Manice Education Center
Brett is the Manice Education Center Director for Christodora, a NYC nonprofit that offers environmental and expedition education to youth both in the city as well as in Florida, MA at Manice.  He previously coordinated expedition programming for the Mayhew Program in Bristol, NH, where he was also a community-based mentor for under-served NH boys; has ski patrolled in Colorado and NH; was an associate teacher in NYC; a therapeutic horticulture instructor on Rikers Island; a camp director in Harriman State Park for NYC children, experiencing homelessness; and was an interim field specialist with the Roberts Field School in Brooklyn. Brett has been a W-EMT since 2013 and will earn an M.Ed. in school psychology this spring.  He has presented both regionally and nationally on behavior management in experiential settings; helps edit the AMC's NH Chapter newsletter, Mountain Passages; and since 2017, has volunteered with the NE AEE regional conference, where he has been a member since 2013.
Christy Brodeur
Workshops / Social Events 
Contract Facilitator
Christy is a Contract Youth/School/College/Community Facilitator for a variety of organizations in the northeast. She started college studying neuroscience and genetics, and then switched to study Adventure Education at Plymouth State once she learned it was possible to do outdoor education and facilitation as a real-life job. Through PSU, she got connected with NEAEE and co-presented research at the regional conference. She has worked as a volunteer trainer and administrator for the White Mountain National Forest PSAR program, a residential outdoor educator, summer camp logistics coordinator, challenge course facilitator, wilderness medicine instructor-in-training, and as an EMT.
Josie Martin
Registration / Website / Workshops
Project Adventure, Inc.
Josie grew up exploring the mountains of Northern New Mexico. Her passion for the outdoors brought her to the thriving outdoor education field in New England and also to the Northeast AEE community. Josie is inspired each year by the work others in this community do and finds this gathering a time of rejuvenation. Josie currently works at Project Adventure and in her spare time enjoys exploring New England with her family.
Megan Meinen
Presenter Outreach / Workshops / Sponsors
The University of Vermont - Adventure Ropes Course
Megan Meinen loves to play, explore and connect! Her time as an experiential educator has been spend bouncing between place-based and environmental education (such as directing the SummerQuest day camp at the Crane Estate in MA or ECHO science center in VT) to Adventure Education (such as working on challenge courses in the US and Honduras). Before all of that, she studied Outdoor Education at the University of Edinburgh. Of all the places she's been she's found home in New England and specifically in the Green Mountain State working for the University of Vermont Outdoor Programs as the coordinator of the ropes course. On a day off you'll find her on a mountain bike, skis, or hiking with her family (John, Willa, and Fella the dog).
Camille Oosterman
Social Media / Marketing
Project Adventure, Inc.
Camille Oosterman has been in the field of adventure education for over ten years, beginning at Hartwick College and continuing to Project Adventure, where she works as a trainer and youth facilitator. In 2015, she developed the Leaders in Training program to bring leadership opportunities to the high school students in the North Shore of Massachusetts. Camille has been involved in the NE AEE community for four years, and was the Conference Convener for 2018 & 2019.
Greg Urban
Publications / Technical Support / Workshops
Project Adventure, Inc.
Greg Urban grew up in the Chicago, went to school in Oregon, and now resides in Boston, Massachusetts, where he plays at Project Adventure as a trainer, youth facilitator, & calendar king. Greg enjoys hammocking, board-gaming and ringing handbells in his time away from PA. He firmly believes in the power of play, music, and imagination in human connection, and relishes the adventure of the everyday. Greg has been on the NE AEE host committee since 2016, and enjoys the little details in the brochure and bringing more board games and hammocks than any other gear anywhere he goes.
Dat Tran
Registration / Website / Workshops 
Matt Morin
Website / Workshops