2022 AEE International Conference
Celebrating 50 Years!
We are so pleased to announce that in 2022 AEE will hold its 50th conference. It has been 50 years of learning, connecting, fun, and friendship with the global Experiential Education community.
SAVE THE DATE! 
See you at YMCA Blue Ridge Assembly, 
Black Mountain, NC
November 10-13, 2022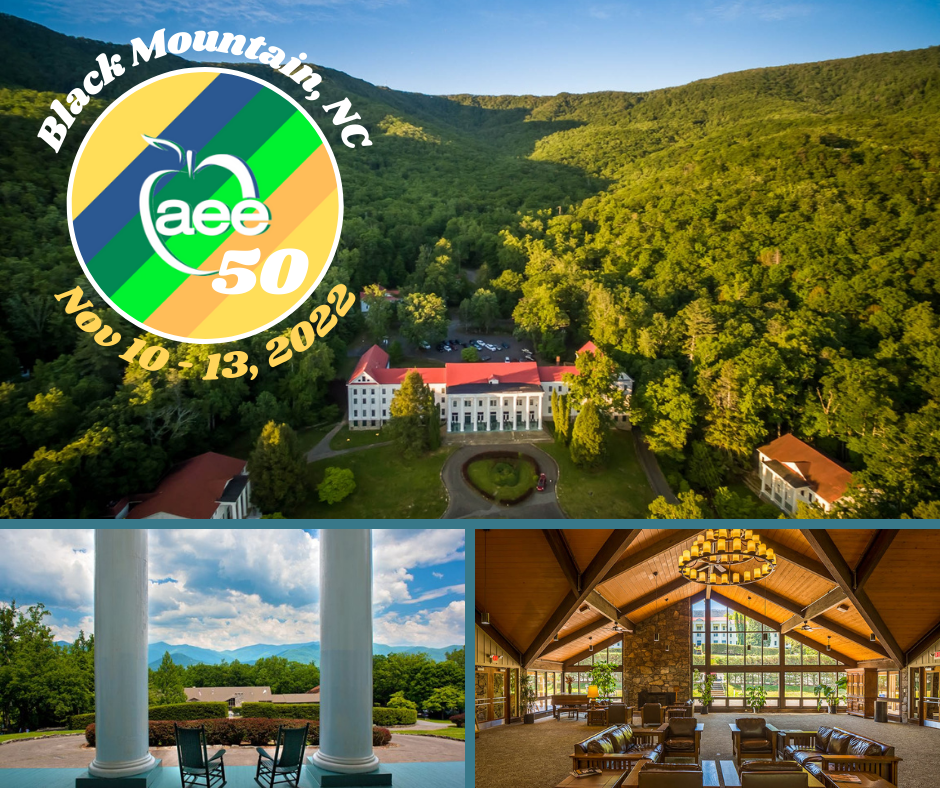 https://blueridgeassembly.org/ 

Nestled on a sprawling 1,200 acres campus, the YMCA Blue Ridge Assembly is ready to host the AEE community in-person! Not only does YMCA Blue Ridge have some awesome lodging options and beautiful facilities, they also offer hiking trails, an on-site challenge course, archery, fire pits..and so much more! 

Just a few of the reasons we picked YMCA Blue Ridge:
On-site hiking and activities

Handicap Accessibility

Shuttle services to & from airports

Large cohort of Membership resides in the Southeast Region

Many Member Organizations & Programs nearby

Great wifi! 

Variety of lodging options and prices

Ample meeting spaces
Please note: We have seen the incredible power of virtual events to connect more attendees from around the world than ever. We will plan to offer a hybrid/virtual component
---
The History of AEE
The Association for Experiential Education (AEE) is a nonprofit international professional membership organization officially incorporated in 1977 but with roots back to 1972. AEE is governed by a Board of Directors who are elected by the association's members. The Board of Directors establishes AEE's mission, goals and ends, and hires an Executive Director to implement them.
Our community is composed of experiential educators, practitioners, inquirers, researchers, and students with the shared goal of elevating the field of Experiential Education. We enrich the experiential education community through regional and annual conferences, defining professional standards, providing accreditation to organizations, and presenting the latest news and research through AEE Newsletters, publications, and the Journal of Experiential Education. We provide a variety of networking and professional development opportunities.
Do you have an old conference T-shirt? Do you have photos from a past event? Do you have a pin, brochure, book, or other memorabilia hidden away somewhere? We'd LOVE to see what you have! Our hope is to have a 'museum' of AEE things at our 50th Conference in November 2022. FILL OUT THIS FORM if you have something to give, let us borrow, or submit!  
READ ABOUT OUR HISTORY

See the history of AEE Conferences HERE