Back to AEE Store
Books - Ethical Issues
Books & Publications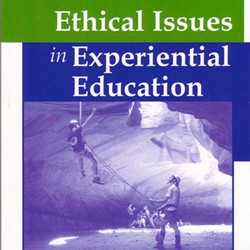 PDF only (no hard copy)
As the title suggests, in this book Jasper Hunt examines ethical issues in the field of adventure programming and experiential education. Hunt has written this book for EE practitioners and not professors of ethics. Consequently, he limits the discussion of ethical theory to the first chapter, in which he also includes a methodology for resolving ethical problems. Topics covered include informed consent, sexual issues, student rights, environmental concerns, programming practices and many others, and Hunt's references to specific examples bring the issues to life. Ethical Issues in Experiential Education is a must-read for any EE practitioner.
Author: Jasper S. Hunt, Jr. Paper back, 137 pages, dimensions 6 1/2 x 10 x 1/2". Release date: 1994. ISBN: 0-7872-9308-3.
After Purchase: please allow 7-10 business days for an AEE Staff Member to email you the PDF copy.
---