Back to AEE Store
Books - Theory & Practice
Books & Publications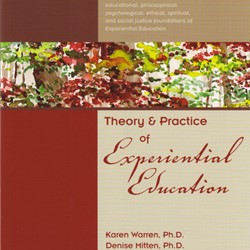 PDF ONLY (No Hard Copy)
In the early days of the Association for Experiential Education, it was often noted that experiential education was experience rich but theory poor. In 1985, the Association for Experiential Education (AEE) published the first edition of this book to help rectify the dilemma. We are pleased to introduce the 4th edition of the original text, which has been re-titled Theory & Practice of Experiential Education.
The relationship between theory and practice in experiential education rests on a profound creative tension. As we become more theory based in the application of experiential education, it is essential to maintain the delicate balance between theory and practice. Theory informs practice, while practice tests and refines theory. This book is an attempt to offer the richness of theory that clarifies practice.
Since that first edition was published back in 1985, there have been some key developments in the theory of experiential education, and the editors of this volume have strived to make this edition reflective of that evolution. The classic chapters retained from previous editions give the reader a sense of both the timelessness and progression of ideas about experiential education. Some of the new chapters cover topics such as multiple intelligence theory, constructivism, brain-based learning theory, educational reform, and facilitation analysis. Yet others critique how experiential education is articulated and practiced, offering new theories and methods.
The result is an excellent teaching resource for undergraduate and graduate courses about education theory and courses specifically in experiential education. It is the editors hope that educators will make this book their own by using the articles that work for their teaching style and students in an order that fits their course progression.
Editors: Karen Warren, Ph.D., Denise Mitten, Ph.D.. TA Loeffler, Ph.D. Authors included in the anthology: Jasper Hunt, Ph.D., Mary Breunig, Ph.D., Dan Garvey, Ph.D., Jay Roberts, Ph.D., the editors, and more than 40 other EE experts.
4th edition. Paperback, 578 pages, dimensions 6 1/2 x 9 x 2". Released November 2008. ISBN: 978-0-929361-17-8
After Purchase: please allow 7-10 business days for an AEE Staff Member to email you the PDF copy.
---