Member Spotlight: Hannah
Date posted
October 3, 2023
Meet
Hannah Kelling

!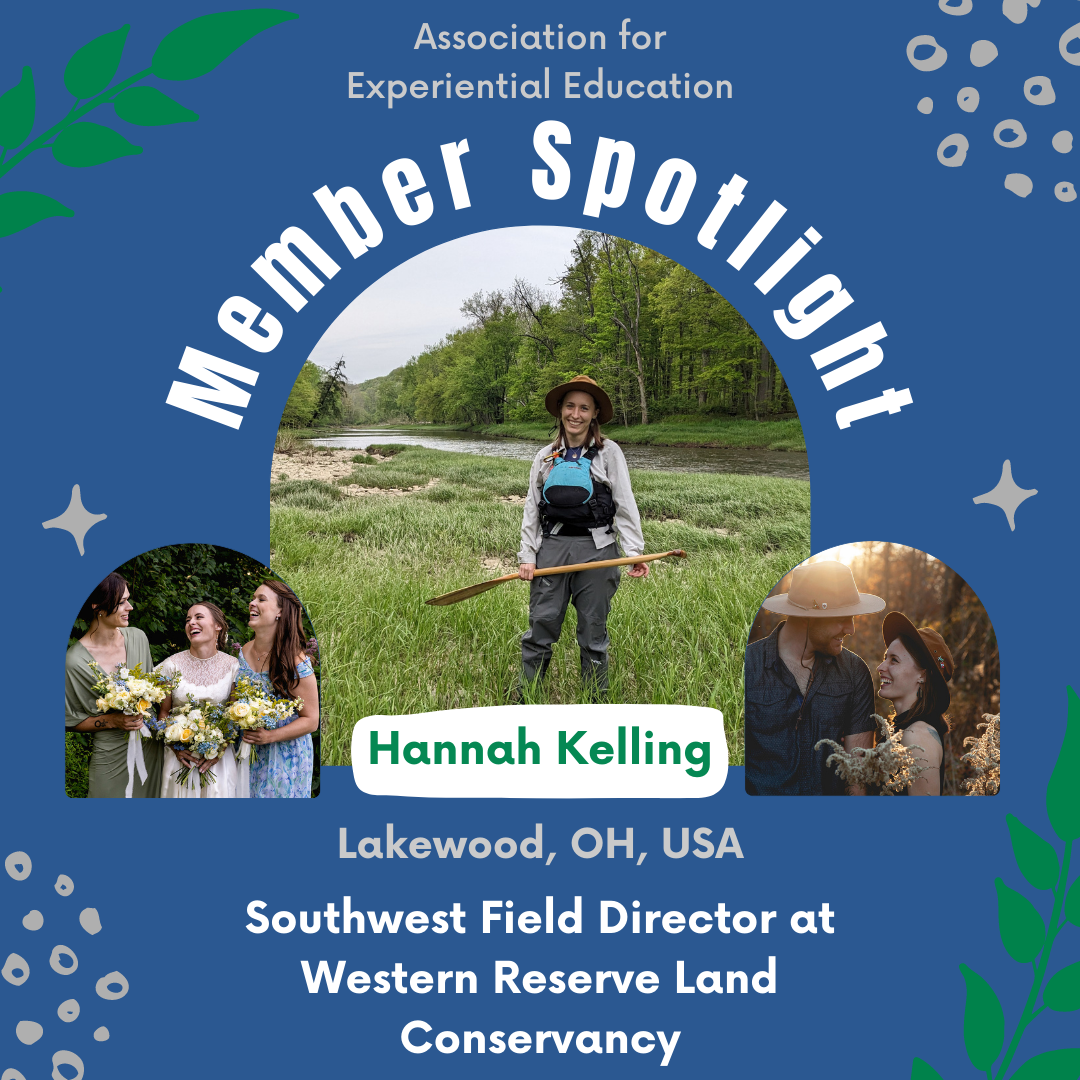 Hannah (she/her/hers) grew up on a 56-acre paradise in Morrow, OH (a two-stoplight town near Cincinnati). Now, she lives in Lakewood, OH with Lake Erie and the Emerald Necklace in her backyard. Hannah is the Southwest Field Director at the Western Reserve Land Conservancy.
---
Tell us a bit about what you do at your organization.
I am overjoyed to be working with the Western Reserve Land Conservancy as their Southwest Field Director. My job description situates me on the "Transactions Team." I spend most of my days discussing conservation easements (CE) and fee title land acquisitions with landowners and community partners. Putting a CE in place or raising the funds to create a new park for a community takes months, even years of planning. In that time, there are a lot of intricate details and relationships to carefully manage. So, even though I am no longer working on challenge courses or with my favorite UBUNTU cards, I still use my facilitator mindset everyday to keep relationships at the core of what we do.
Tell us more about yourself!
I'm a triplet with two differently sized feet. I was married to my best friend and fellow outdoor educator and sea kayaking guide Josh Scott earlier this year (8.19.2023). My first job in the outdoor industry was in 2013 as a zip-line tour guide at Ozone Zipline Adventures. I ran a small business called "The Cleveland Outpost" during the pandemic which aimed to create a circular economy for used outdoor gear. I have no pets but my central goal in life is to finally introduce a Labrador Retriever into our household. That' s me!
What excites you when you think about the future of Experiential Education?
When I first joined the experiential education biome, it seemed like a secret sauce that only a few people knew the recipe to. One of my professors at Kent State handed me a book called "Islands of Healing" after a particularly inspired conversation about my future career, as I envisioned it then. I remember thinking: Why don't more people know about this?? Why isn't this available as a major here?? Little did I know: There were already legions of environmental educators, adventure therapists, outdoor educators and more making this magic happen. It's my hope that others won't have to wait until their Senior year of undergrad to discover the magic of experiential education. And with every year that passes, it becomes a little more visible and central to public discussion. Someday, I hope experiential education is the norm!
Who or what inspires you?
Faith inspires me, in all of its forms. I am not a religious person (though I do call myself "spiritual"), but I admire the faith that pulls people through hard times - like those we find ourselves in now. Faith in a God or gods or something greater. Faith in human resiliency and diversity. Faith in community and love. Faith in nature's ability to heal and recover. Faith takes different forms for different folks, but it's what helps us rise and face the day!
In your free time, we can probably find you:
NOT sitting still. I am a performing vocalist (choral and open mic), an Ultimate frisbee player, a cyclist, a backpacker, a bikepacker, a runner, a sea kayaker, a sea kayak instructor, a swing dancer... Well, you get the picture.
How long have you been involved with AEE?
I believe I joined AEE during my graduate school career (2017), but it's quite possible I joined earlier. Brian Croft stands out as one of my earliest mentors in the outdoor education/adventure recreation space. He was deeply involved in AEE and even convinced me to chair the Heartland Regional Committee for a spell during my graduate assistantship. At the time I felt so young and inexperienced (what wisdom could I possibly have to offer this committee of older, wiser colleagues?) but they gave my voice room to grow. I have attended Regional and International conferences with AEE and presented in both of those settings on power dynamics in group facilitation. The pandemic regrettably put some space between me and the AEE community, but I have been eager to get back to the conferences to soak up the love that can only be found here.
What is the most rewarding part about being a Member of AEE?
AEE relationships are built to last. Even those you don't see except for one or twice a year - one can have faith that they will pick up right where they left off. When hard times have come professionally or personally, AEE family have been the first to lift me up and encourage me to keep going.
Oh boy. I can picture one particular International Conference - perhaps it was Spokane? I was grinding through the second and final year of my graduate degree with Indiana University. Unfortunately, my mental health was in shambles. I had agreed to present to a group of 50+ people at the Conference (I didn't know how to say no, then), and had a panic/anxiety attack in the middle of the presentation. Somehow, I managed to complete it and quickly excuse myself. And, at any other conference, that might have been the end of it. Not at AEE. Friends and strangers both reached out to make sure I was alright. Mo, Danny, Brian, Tyler... They pulled me in closer and made sure I knew that I had earned my place, that I had something worth sharing, that I was whole, that I was enough. Knowing others had faith in me at my most chaotic and untethered hour kept me going, and brought me to the happy, fulfilling place I am in today.
---
Find Hannah here:

Instagram (@thirdofthree)
email (hkelling333@gmail.com)
---
Current AEE Members - don't forget that you can connect directly with members through the Member Directory (just log in!).
Not a Member yet? Learn more & Join!
Members: want to be featured? Find the link to submit your story in your Member Compass.