Member Spotlight: Rachael
Date posted
October 16, 2023
Meet
Rachael Loucks, Ma.Ed.

!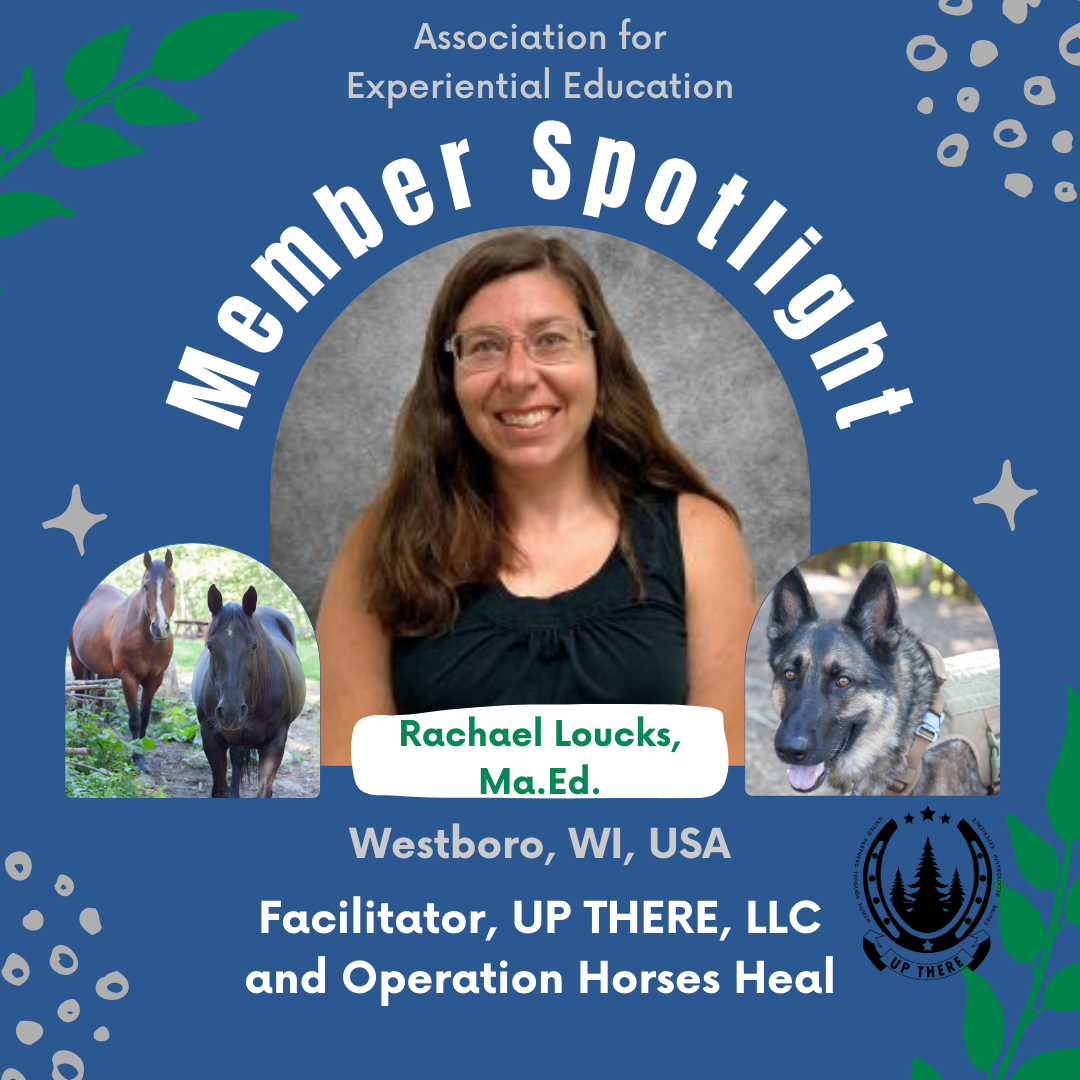 Rachael (she/her/hers) lived in Greenfield, IN for much of her childhood and then moved to Rib Lake, WI. She now resides and operates her

Equine Facilitated Learning Program

business

UP THERE, LLC

and non-profit Operation Horses Heal with her husband in Westboro, WI. If she had to give herself a job title, it would be something like:

HR-FACILATOR-ADMIN-MAINTAINANCE-DIRECTOR (but technically EFL).
---
Tell us a bit about what you do at your organization.
I actually run two organizations with my husband. Both offer experiential learning opportunities. The first, Operation Horses Heal, is a non-profit specifically for Veterans, Active Service Members, and their families. We offer inclusive support through non-ridden equine activities. For this organization, my day-to-day is really a lot of administration and prepping for events. The second is UP THERE, LLC; which is where I spend the bulk of my time. UP THERE, LLC facilitates learning through interactions with horses. Our program works with horses in a unique way--keeping in mind consent and choice. Approximately 90 of the work we do with horses and our participants is done in a way where the horses really get to pick and choose how they interact with the humans in their space. We focus on relationship and making meaning from our interacts with the horses. Equine Facilitated Learning is distinctly different than Equine therapy. Our aim is not to diagnose or treat, in stead, we learn along side our participants and facilitate an experience that will allow participants to learn about themselves and create strategies to utilize what they've learned in their day to day life. When participants come to us, they are not consenting to therapy, they are consenting to a learning opportunity.

My day to day duties really vary with this work. My day typically starts with caring for the horses. Wait--let me back up and be honest here. My day starts with coffee and THEN caring for the horses. I might tackle a few administrate type tasks while having breakfast and then I'm out in the barn or forest most of the day. Horse cares include getting hay prepped and out, filling water troughs, and determining which paddocks will need to be open or closed. I may do a little manure management and then I'll review my schedule for the day. Once I've got a handle on how many participants I'll be seeing, I'll then schedule my key times to return to my office and work on my administrative tasks. I see anywhere between 4-6 participants in a day and see participants approximately 7 days per week. Between all of that, there is also managing things such as farm maintenance--we're wilderness-based, meaning we worked in a forested; non-traditional horse farm setting, however, we still need to do things like lawn care, fencing upkeep, etc.
Tell us more about yourself!
Prior to this work, I was an Early Childhood Teacher Educator who specialized in trauma informed early childhood education practices. Both my husband and I are self employed--we also own a trucking business. We have three children, two dogs, three cats, a turtle, and a leopard gecko. Our equine program currently has 6 horses and 1 donkey and we'll soon be adding two more donkeys and one more horse.
What excites you when you think about the future of Experiential Education?
I love the diversity of the applications. There are so many ways to build Experiential Education pieces into so many fields of work--therapy, learning, training. There is a lot of opportunity there!
Who or what inspires you?
Veronica Lac, Director of The HERD Institute
In your free time, we can probably find you:
Either watching a spooky TV show or Movie, traveling, or spending more time in the forest.
How long have you been involved with AEE?
I'm honestly not sure how long I've been involved. My involvement varies a lot depending on my bandwidth and capacity for something else on my plate. I have not done any volunteer or committee work at this time; but I have presented at an AEE conference previously.
What is the most rewarding part about being a Member of AEE?
I love the opportunity to learn from others in this industry. I love the research that is being done and I'd love to see some more research in looking at Equine activities, such as EFL.
Well--three things from the AEE conference last year in NC. #1--I was able to connect with Equine practitioners in AEE, specifically a practitioner in the industry I really admire. I honestly thought I was the ONLY one was doing this sort of work and was surprised in the interest in my session. #2--I was able to really see how much variety there is with in this industry. #3--It took an AEE conference to get together with another Experiential Education professional who I've known for years; because we had previously been at the same camp together!
---
Find Rachael here:
reach out to me via email at either
director@operationhorsesheal.org or rrhorsehaven@outlook.com
---
Current AEE Members - don't forget that you can connect directly with members through the Member Directory (just log in!).
Not a Member yet? Learn more & Join!
Members: want to be featured? Find the link to submit your story in your Member Compass.