Member Spotlight: SunShine
Date posted
October 17, 2023
Meet
SunShine Gardner

!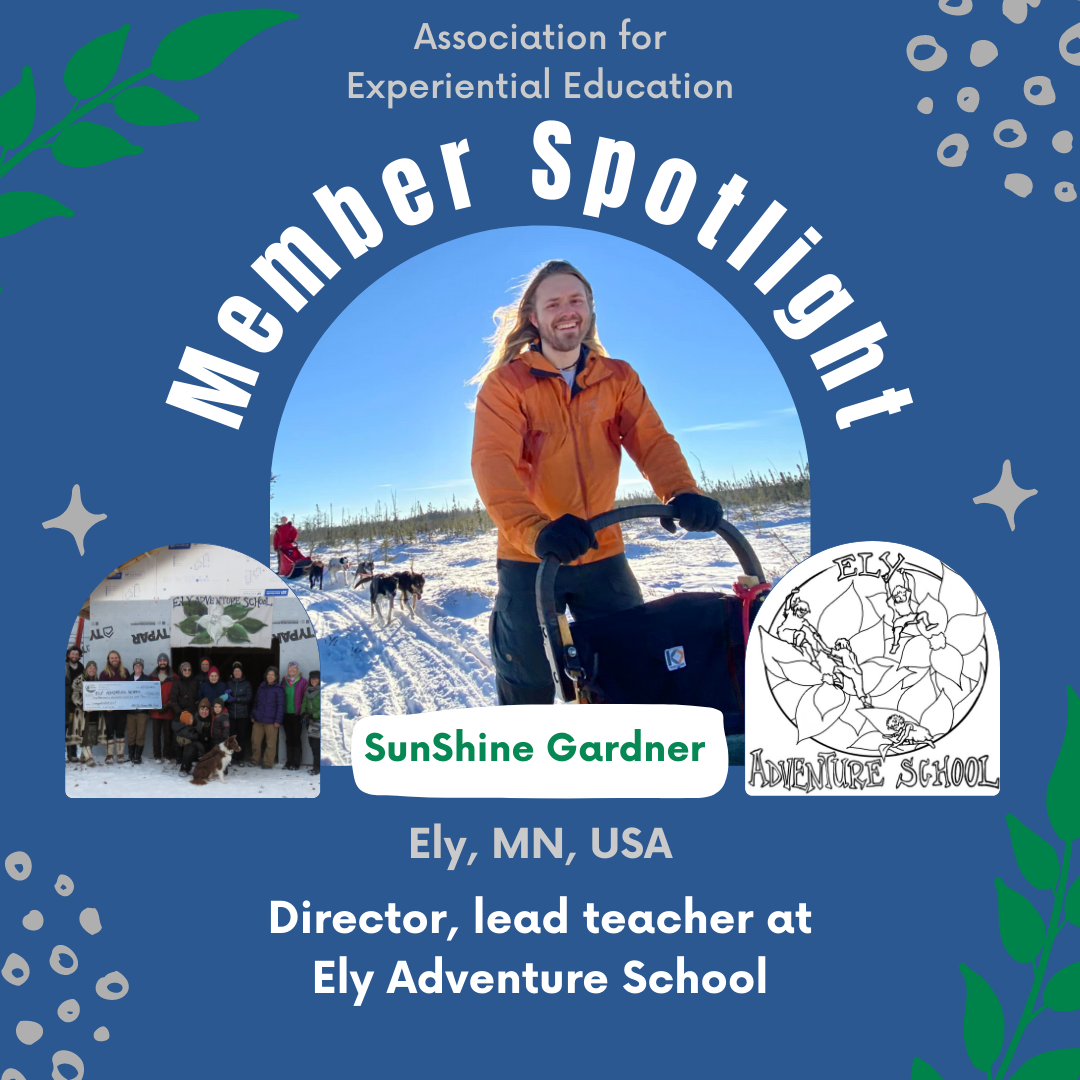 SunShine (he/him/his) grew up in Stillwater MN, and now lives in Ely MN where he is the Director and lead teacher at Ely Adventure School.
---
About SunShine:
SunShine Gardner brings together his love of the outdoors and training as an educator in the Adventure School summer programs. In his own childhood SunShine loved the time he spent running around the woods and camping in the Boundary Waters near Ely, MN. He went to school to receive a degree in Adventure education. During the summers he came back to Minnesota to lead canoeing trips in Minnesota and Canada. While in school SunShine had the opportunity to work at the Juniper Hill school for place based education in Alna, ME. here we fell in love working with nature preschools, and his current dream took root. After college he spent a semester as an apprentice at the High Mountain Institute teaching Spanish. Although the mountains and school are amazing teaching Spanish not for SunShine. He returned to Ely to work for Camp Widjiwagan, leading groups of children on adventures in the woods. Over his years of working for Widjiwagan SunShine solidified his skills as an educator and fostered his passion for working with children. He returned to school received a Master's in Adventure education from Prescott College. Around this time the opportunity to start his own school for local Ely children presented itself he did not hesitate to shift his time and energy into making the best program he could. The Ely Adventure School has had three successful summers and will open this fall as a nature preschool.

What excites you when you think about the future of Experiential Education?
Better Social skills for everyone. I also love having more people liking being outside. It really just comes down to that better social skills lead to a better world.
Who or what inspires you?
Dav Pilkey, Bill Watterson, Ann Stires (the former director of the Juniper hill school), Karen Pick (former director of Widjiwagan's fall, winter, spring programming), Denise Mitten (one of my teachers at Prescott), My parents, my Friends, the children I work with.
In your free time, we can probably find you:
What free time? :) In the winter I cross county ski much as I can!
How long have you been involved with AEE?
A Few years. In one of my classes with Denise Mitten at Prescott College the students all signed up!
---
Find SunShine here:
elyadventureschool@gmail.com
---
Current AEE Members - don't forget that you can connect directly with members through the Member Directory (just log in!).
Not a Member yet? Learn more & Join!
Members: want to be featured? Find the link to submit your story in your Member Compass.