Member Spotlight: Elyse
Date posted
October 17, 2023
Meet
Elyse Norton

!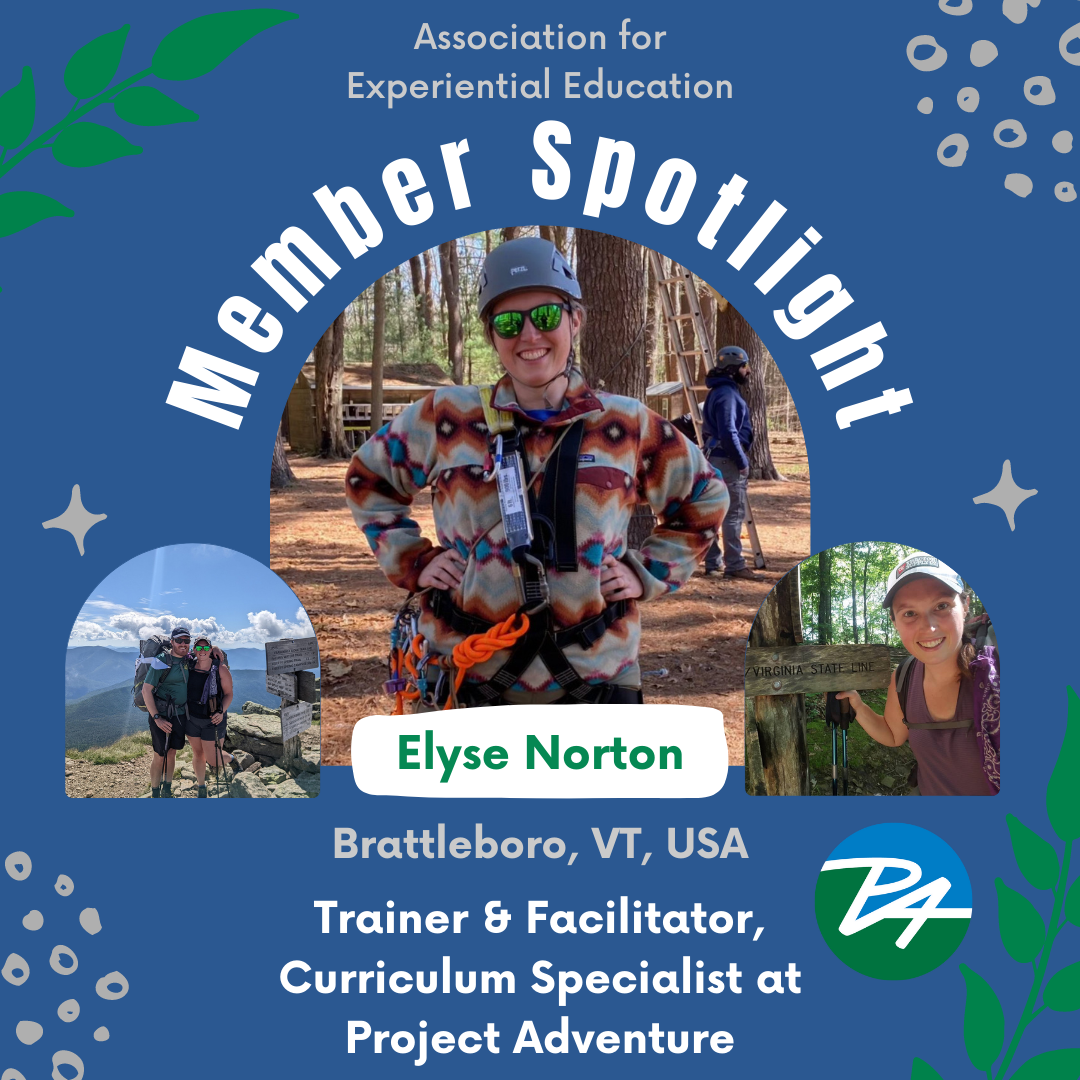 Elyse (she/her/hers) grew up in northern Vermont and is now based near Brattleboro where she is a VT. Trainer & Facilitator & Curriculum Specialist at Project Adventure.
---
Tell us a bit about what you do at your organization.
I spend time with groups and leaders of all ages who are looking to strengthen their communities, grow their social and emotional capacity, or find deeper connection or growth play and adventure. When I'm not with people, I'm writing or editing curriculum and game plans for folks in educational settings to bring the power of play to the classroom.
Tell us more about yourself!
I spent 11 years as a music teacher, recently completed section hiking the Appalachian Trail, grew up raising dairy cows for local farmers, am a trained opera singer, I live in a log cabin with my husband Will, dog Scout and cats Baxter and GusGus, and love to run while listening to audio books.
What excites you when you think about the future of Experiential Education?
I'm excited by the growing interest of public schools in terms of experiential education as well as the neuroscience that is continually supporting the idea that we all learn at our best when we learn experientially. The 'mainstreaming' of EE as a modality of learning has me excited for the future of education.
Who or what inspires you?
My mom was my original experiential educator and is a constant inspiration. She fosters my curiosity in everything from music to plant identification and was an amazing role model for fearlessly exploring and adventuring everywhere. I aspire to have half her optimism and a quarter of her curiosity!
In your free time, we can probably find you:
Hiking, trail running, gardening, playing music or singing with friends, experimenting in the kitchen, cuddling the pets (Scout- dog, Baxter and GusGus -cats), doing house project with my husband Will.
How long have you been involved with AEE?
A few years. I joined because I was in public education and wanted more resources to teach in a more experiential way. I've volunteered at the International AEE conference and am co-convening the 2024 NEAEE conference.
What is the most rewarding part about being a Member of AEE?
The support of others within the conference is amazing. If you ask, help floods in!
Networking at AEE conferences helped me end up at Project Adventure!
---
Find Elyse here:

enorton@pa.org
---
Current AEE Members - don't forget that you can connect directly with members through the Member Directory (just log in!).
Not a Member yet? Learn more & Join!
Members: want to be featured? Find the link to submit your story in your Member Compass.