Member Spotlight: Pam
Date posted
September 25, 2023
Meet
Pam Gregory

!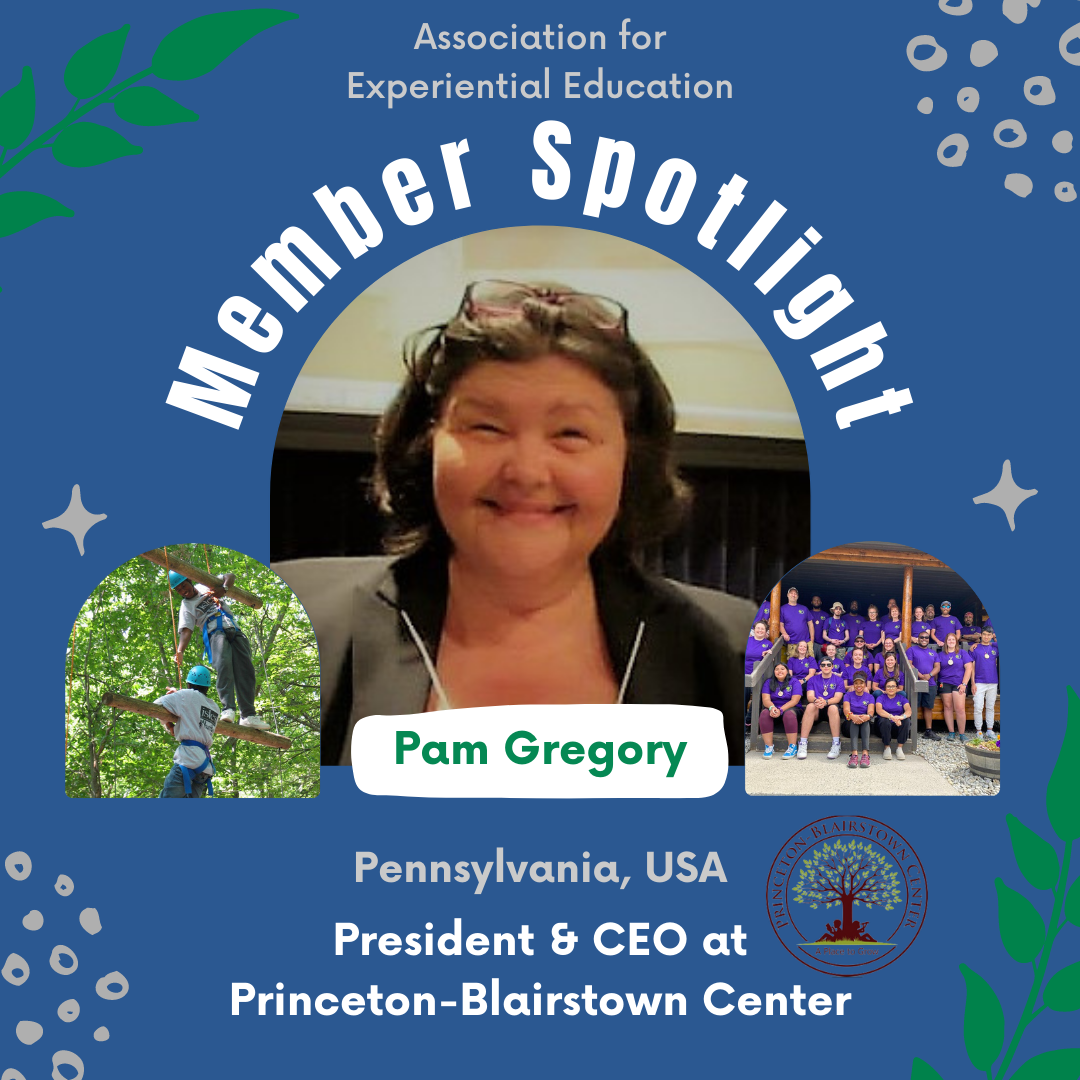 Pam (she/her/hers) grew up in Baton Rouge and New Orleans, Louisiana and today she lives in Pennsylvania. Pam works in New Jersey where she is President & CEO of

Princeton-Blairstown Center

. (Accredited by AEE since 2019)
---
Tell us a bit about what you do at your organization.
I serve as the President & CEO of the Princeton-Blairstown Center (PBC), a 115-year-old outdoor education center that serves young people, primarily from historically marginalized communities, by nurturing their social-emotional skills through experiential, environmental, and adventure-based programming. I work directly with a diverse Board of Trustees and four committed senior leaders and their staff to advance the mission of PBC in its execution of our strategic plan. Every day is different and ranges from raising funds, collaborating with Board members, reviewing financials, discussing and developing strategy, planning for program and facility improvements, watching our staff work their magic with students, considering sustainability improvements, DEI training and community building, meeting with donors, reflecting on and evaluating our program effectiveness, and celebrating our many accomplishments with our staff.
Tell us more about yourself!
I joined the Princeton-Blairstown Center (PBC) in 2013 after running away to Las Vegas to join the circus for two years. The circus was Cirque du Soleil where I had the honor of serving as Director of Global Citizenship US, overseeing corporate giving, employee engagement, public affairs, and the company's Cirque du Monde programs for at-risk youth.

Prior to Cirque, I spent more than 20 years working with organizations that expand equity, access, and opportunity for New York City young people though progressively responsible roles at Inwood House, Children For Children, and Girls Quest

My earliest professional experience in the social-emotional learning and experiential education world came from the 10 years I spent at Trail Blazers, one of the oldest continually operating summer programs for historically marginalized youth in the U.S. I served as the Girls' Program Director and Executive Director.

I graduated with a BA from the University of New Orleans and obtained an MA from Goddard College in Vermont. I also completed the Executive Level Program at Columbia Business School's Institute for Non-Profit Management.

I currently serve as the Treasurer and a Board member for the American Camp Association (ACA) NY & NJ and am a proud award recipient of the Mike Gordon Young Leaders Award by ACA NY & NJ. I am also a lifetime member of the Girl Scouts, an organization that ignited my love of the outdoors and experiential education as a young person.

I live in northeast Pennsylvania near the Delaware Water Gap National Recreation Area with my husband Dave. We love to garden, kayak, walk, and commune with the natural world.
What excites you when you think about the future of Experiential Education?
I am excited about the future of experiential education because there is more and more research-based evidence (ACA, Hello Insight) proving what so many long-term practitioners have talked about anecdotally for decades - that high-quality outdoor experiential learning programs impact young people even more than other out-of-school time programs. These findings will result in more funding so that young people from historically marginalized communities will have equitable access to high-quality experiential education programs. That will also continue to help build a pipeline to attract great diversity to our work.
Who or what inspires you?
The team I work with at PBC inspires me every day. They are mission-driven and work so hard to provide transformative outdoor experiences to young people who rarely have access to high-quality outdoor experiences. Teaching young people that learning can be fun and watching them become more confident team players, better communicators, and capable problem solvers is what inspires me to keep doing this work.
In your free time, we can probably find you:
Gardening, kayaking, sailing, reading, going to outdoor concerts, and hanging out with friends.
How long have you been involved with AEE?
I've been a member of AEE since 2014, shortly after I joined PBC. I value the learning community AEE provides and the opportunity to learn about best practices in our field. I was so impressed by the AEE community that I have encouraged my team members to attend numerous conferences and present workshops, and I have moved PBC forward in obtaining our AEE accreditation.
The AEE accreditation process has had a significant impact on me. I am so impressed by the generosity and dedication of the two accreditation teams that I have met. Most recently, I met Denise, an icon in the field, and I found her to be inspiring, encouraging, and direct.
---
Find Pam here:
https://www.linkedin.com/in/pam-gregory-abb55b7/
pgregory@princetonblairstown.org
---
Current AEE Members - don't forget that you can connect directly with members through the Member Directory (just log in!).
Not a Member yet? Learn more & Join!
Members: want to be featured? Find the link to submit your story in your Member Compass.