Mid-Atlantic Regional Conference
---
Friday, March 25, 2022
to Sunday, March 27, 2022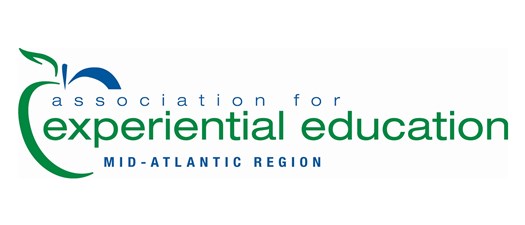 Mid-Atlantic Regional Conference
March 25-27 2022
West Virginia University Outdoor Education Center
Connecting Health to Nature
The Region and Professional Group Conferences are aimed at furthering experiential education in its many applications. They seek to strengthen the Association and the field by bringing together its practitioners, supporters – members and non-members – to work, talk, network, play, and learn together in a unique environment that is solely devoted to these objectives and thoughtfully designed for these purposes.
The Mid-Atlantic Region encompasses the following U.S. states: Delaware, Maryland, New Jersey, Pennsylvania, West Virginia, Virginia, and Washington D.C. Our region unifies individuals from a variety of fields: including schools and colleges, museums, therapeutic recreation centers, camps and conference centers, and outdoor recreation venues.
We, as the Mid-Atlantic Region, strive to promote and support the vision of AEE. This vision connects a global community of educators and practitioners, and it expands their capacity to enrich lives through experiential education. AEE is currently leading the way in experiential education nationwide and they will need our continuous support and efforts in making a difference in the lives of many.
Sponsored by:
Schedule:
FRIDAY
4:00-8:00PM Conference Check-In
5:00PM Off-site Social
SATURDAY
7:30-9:00AM Check-In
8:00AM Breakfast
9:00-10:15AM Workshop 1
10:30-11:45AM Workshop 2
12:00 - 1:00PM Lunch
1:00-2:00PM Keynotes
2:15-3:30PM Workshop 3
4:00-5:30PM Play Note/ Gear Swap
5:30-6:30PM Dinner
6:30-7:15PM Talent Show
8:00-10:00PM Alpine Tower/ Campfire
SUNDAY
8:00 AM Breakfast
9:00-9:30AM Closing DEEbrief
10:00 AM Departure
Registration
We are excited to offer the "pay what you can" pricing model for our regional conference again this year. This model aligns with our values of equity, inclusion and community. Please consider the value you expect this conference will provide to you, and the value a dollar has in your life as you decide what to pay. Based on our best estimates, the recommended amounts for conference registration are $140 for students/volunteers/presenters, $180 for professional members, and $220 for professional non-members. Please keep in mind all of the proceeds go directly to support AEE.
LODGING:
Onsite lodging: this option is for when you book 2 nights (only 30 available)

On-site lodging is purchased with registration (Spots are limited). Located in the center of campus, the Adventure Basecamp Overnight Facility includes 4 overnight yurt structures. Arranged to accommodate up to 12 people per unit, each yurt is equipped with bunk-beds, electricity and heat. Multiple outlets are available along the outside interior wall. Guests will also find that each yurt is equipped with a center communal area that consists of multiple Adirondack chairs and tables. Dimmable lights and outside seating are also available. Each yurt is located within a very short walk of all conference program areas. Bathrooms, showers, picnic areas and fire rings are also located within within feet of these yurt facilities. https://adventurechallenge.wvu.edu/our-facilities/adventure-basecamp-overnight
EXHIBITOR OPTIONS:
The Association for Experiential Education is a 501(c) (3), tax-exempt organization. We would greatly appreciate your help! This is a prime opportunity to introduce yourself and market your products or services to some of the most influential people in the field, including: administrators, educators, outdoor adventure programmers, therapeutic programmers, camp directors, school districts and social agencies. Your marketing effort and dollars will reach individuals and organizations committed to the development, practice and evaluation of experiential learning in all settings.
We are excited to offer two options to showcase your business/organization and network with conference attendees. Traditional exhibit tables offering information about your organization or business will again be conveniently located in the Berkshire Outdoor Center Dining Hall. We will also have a new option to choose a Vendor Exhibitor Table in a lockable space within the dining room. Vendor Exhibitors are welcome to offer products, books or services to conference attendees and these materials may be locked in the vendor room outside of vendor hours.
Conference Exhibitor rates are $75 for an Exhibitor table
Please contact CJ Coy at coy.belknap@mail.wvu.edu regarding Exhibit Hall questions.
ADVERTISING IN CONFERENCE PROGRAM:
· ALL Exhibitors will be mentioned in the conference program.
Ad Rates: Size Specs Price
Full Page 7" x 4.5" $75.00
Half Page 3.5" x 4.5" $50.00
Banner 1.75" x 4.5" $25.00
· Rates for ads are for one-time placement in the 2022 Conference Program.
· Ads must be received as camera-ready art NO LATER THAN March 2, 2022
SPONSORSHIPS
$100 - Seedling Sponsor - business listed on the mid-atlantic website page.
$250 -Sapling Sponsor - listed on the mid-atlantic website page and 1/3 page ad in the paper program
$500 - Blossoming Sponsor - listed on the mid-atlantic website page,1/4 page ad in the paper program, and exhibitor booth at the event
$750 - Fruiting Sponsorship - listed on the mid-atlantic website page, 1/4 page in paper program, exhibitor booth at the event and 1 event registration.