Member Spotlight: Emma
Date posted
November 6, 2023
Meet
Emma (MacPherson) Higgins

!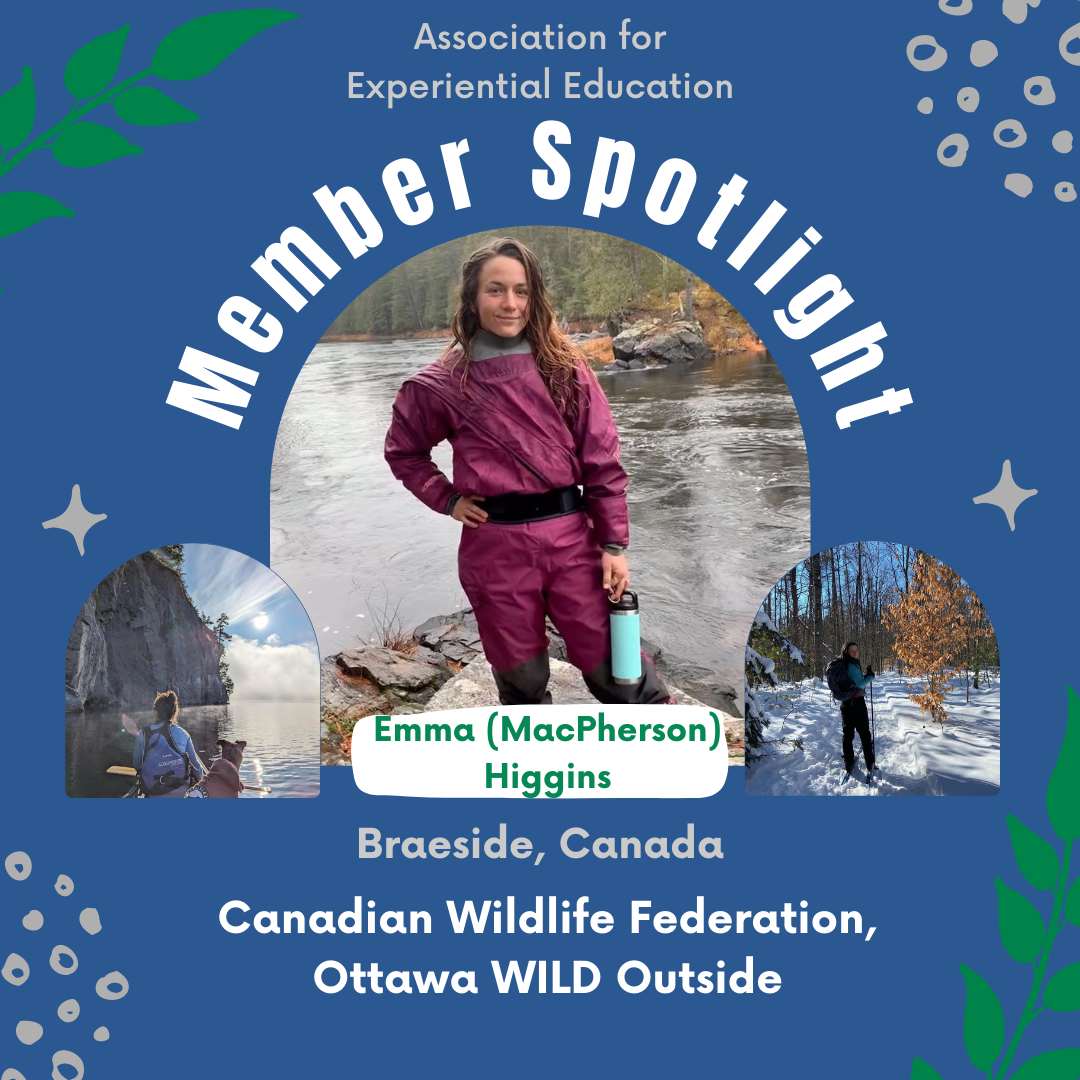 Emma (she/her/hers) was born in Buckhams Bay, a small neighbourhood by the water. She then lived in Kanata for her high school years. She now has a home with her husband in Braeside, outside the city limits of Ottawa. Emma works for the Ottawa WILD Outside program at the

Canadian Wildlife Federation

.
---
Tell us a bit about what you do at your organization.
The WILD Outside program is a barrier-free outdoor day program for youth aged 15-18. It runs all year round, with program frequency based around the school year. For this program, my partner and I coordinate and plan events, service projects, educational workshops and virtual activities for our participants in the Ottawa area and beyond. We market and promote activities, track participant attendance, purchase and prepare program equipment, partner with organizations to host our events, complete event planning documents and risk forms, and much more! It is an incredibly diverse job, because with each new season and event, comes new components to plan, and unique situations to consider. I love that I work with such passionate young leaders, and I am constantly learning through our amazing partners and projects. It's a very special job.
Tell us more about yourself!
I have always found my place to be in the outdoors. My grandma at a young age took me to do anything and everything you could do outside - rain, shine or snow we would get active and in nature. Often we went skiing, riding, hiking, or paddling. I did Girl Guides for many years. I grew up riding horses and my first job was as a camp counsellor for a learn-to-ride camp. I went to school for Outdoor Adventure and business. I had my first major outdoor job working for JUMP! Canada in BC, and then worked for an outdoor rehabilitation program before finding myself with WILD Outside. I look forward to staying in the outdoor industry. I currently live with my husband in a quiet little spot in Braeside where we garden, raise chickens and have a rescue dog. We are truly thankful every day for our home because it allows us to be outside all the time. I do not take it for granted that my job and lifestyle allows me to do what I love most.
What excites you when you think about the future of Experiential Education?
I think the passion behind our up-and-coming generation is very exciting. Young people recognize that they have the power to do amazing things for our planet and they are filled with so much hope and determination.
Who or what inspires you?
Authentic people, passionate people.
In your free time, we can probably find you:
Hiking, canoeing, running, time with my dog, camping, gardening!
How long have you been involved with AEE?
I have been involved with AEE through my workplace, Canadian Wildlife Federation. We have had the opportunity to partake in virtual AEE events.
What is the most rewarding part about being a Member of AEE?
Gaining knowledge and community with passionate people in a unique space.
I have just enjoyed connecting with likeminded individuals in this field during the last AEE conference. It was re-energizing to have meaningful conversations

.
---
Find Emma here:
EmmaM@cwf-fcf.org
---
Current AEE Members - don't forget that you can connect directly with members through the Member Directory (just log in!).
Not a Member yet? Learn more & Join!
Members: want to be featured? Find the link to submit your story in your Member Compass.