Member Spotlight: Ken
Date posted
September 5, 2023
Meet
Ken "Katbird" Dunn

!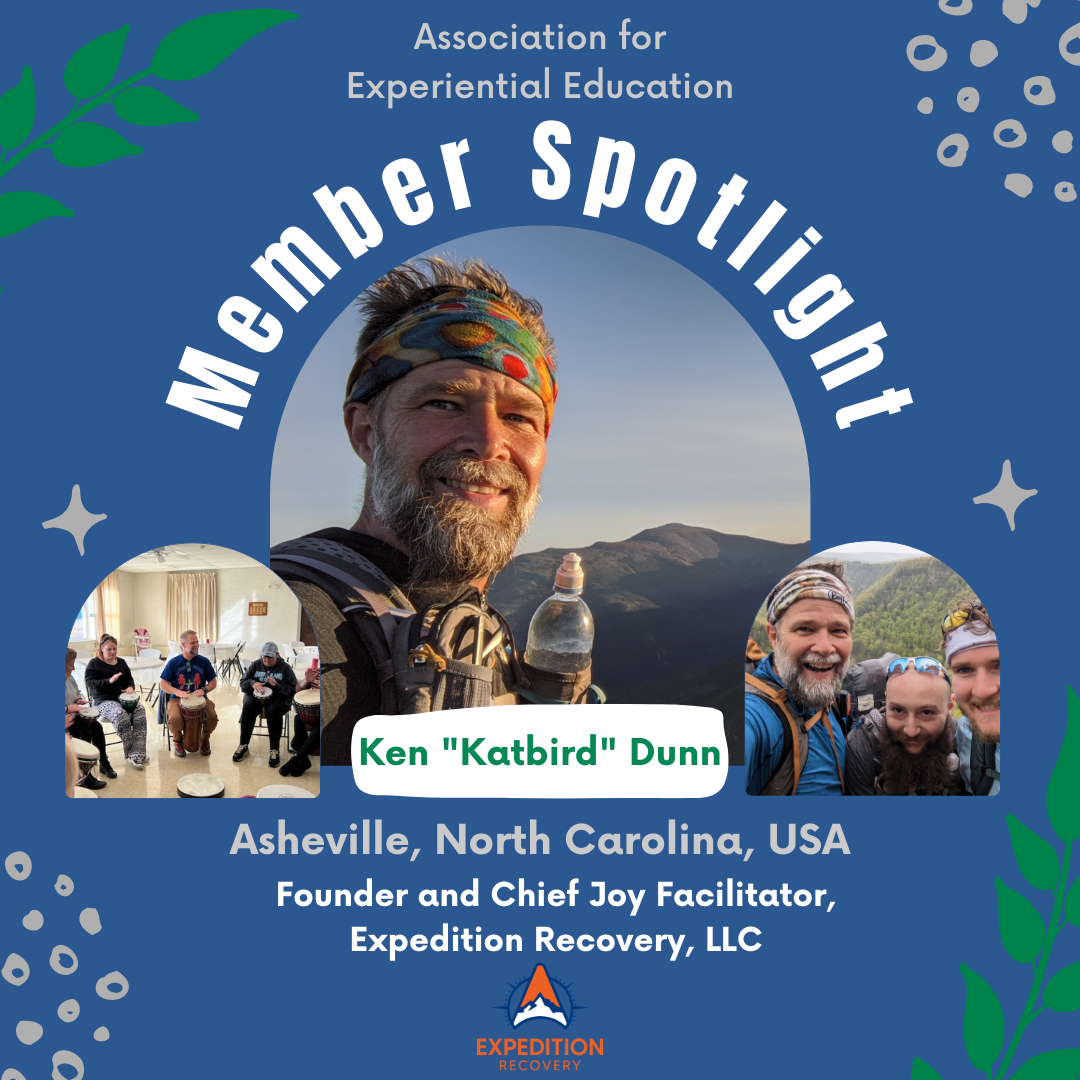 Ken (he/him/his) grew up in a small town in eastern Pennsylvania called Honey Brook (If you know of it, you probably grew up there too). Ken now resides in Asheville, North Carolina where he is the Founder and Chief Joy Facilitator at

Expedition Recovery, LLC
---
Tell us a bit about what you do at your organization.
We provide peer support to our addiction recovery community. We engage in peer to peer recovery support in the form of outdoor recovery coaching. We also provide experiential group facilitation in treatment centers and other community organizations. And we conduct multi-day expeditions. Our group facilitations are both indoors and outdoors. One of our most popular activities is community drumming.
Tell us more about yourself!
I am new to the experiential education world. I worked for a long time in information technology, most recently as a cyber security specialist. However, I once worked as a business analyst and facilitated groups in that role. I greatly enjoyed that work but, I didn't understand why until recently. I retired from the IT world at the age of 50 to start my business and experiential ed career....and I love it!

I am a long distance backpacker. From 2020 through 2022 I hiked over 4,500 miles. I hiked the Appalachian Trail, 800+ miles of the Pacific Crest Trail, as well as 200+ miles of the Oregon Coast trail, the Colorado Trail and countless other short trails.

I play the mandolin. And love to sing. It doesn't sound so good but, it feels great. Sorry, I'm not stopping anytime soon, though. I also love to dance. Swing is my current favorite, however, I really enjoy contra dancing as well. I have a lot of other hobbies as well. Woodworking, blacksmithing, camp craft, mycology, you name it! Disc golf is taking up a considerable amount of my free time right now.

I am a person in long term recovery from addiction to alcohol, video games and work as well as generational trauma (family dysfunction). I have been in recovery from addiction for almost 7 years.

I recently moved from Lancaster, PA to Asheville, NC. I have three adult children and two young step-children. I don't have any pets right now, however, I am a dog lover. I am the middle of three children and it shows.
What excites you when you think about the future of Experiential Education?
I am excited to see how experiential education will be used in new, innovative ways.
Who or what inspires you?
My peers (my customers) inspire me the most. I couldn't imagine, on my own, some of the lessons they learn from the activities we do together.
In your free time, we can probably find you:
Backpacking or playing disc golf.
How long have you been involved with AEE?
I have been involved in AEE for about a year and a half. I found out about AEE from an organization that I took some training from.
What is the most rewarding part about being a Member of AEE?
There are a lot of rewarding parts of AEE. I really appreciate all of the knowledge that the presenters offer. However, the part I enjoy the most is making connections with others and learning the different ways they use experiential education.
I facilitated an impromptu drum circle at the 2023 Mid-Atlantic Regional in the evening around the fire. It was fun to be able to co-create that moment. I had been hoping to try Group Juggle with the drums but, hadn't tried it out with my groups yet. Who better than to test it out on than a group of facilitators?! It went very well and is now a regular part of my programming.
---
Find Ken here:
Phone: 828-793-3733
---
Current AEE Members - don't forget that you can connect directly with members through the Member Directory (just log in!).
Not a Member yet? Learn more & Join!
Members: want to be featured? Find the link to submit your story in your Member Compass.