Member Spotlight: Kera
Date posted
August 31, 2023
Meet Kera Passante!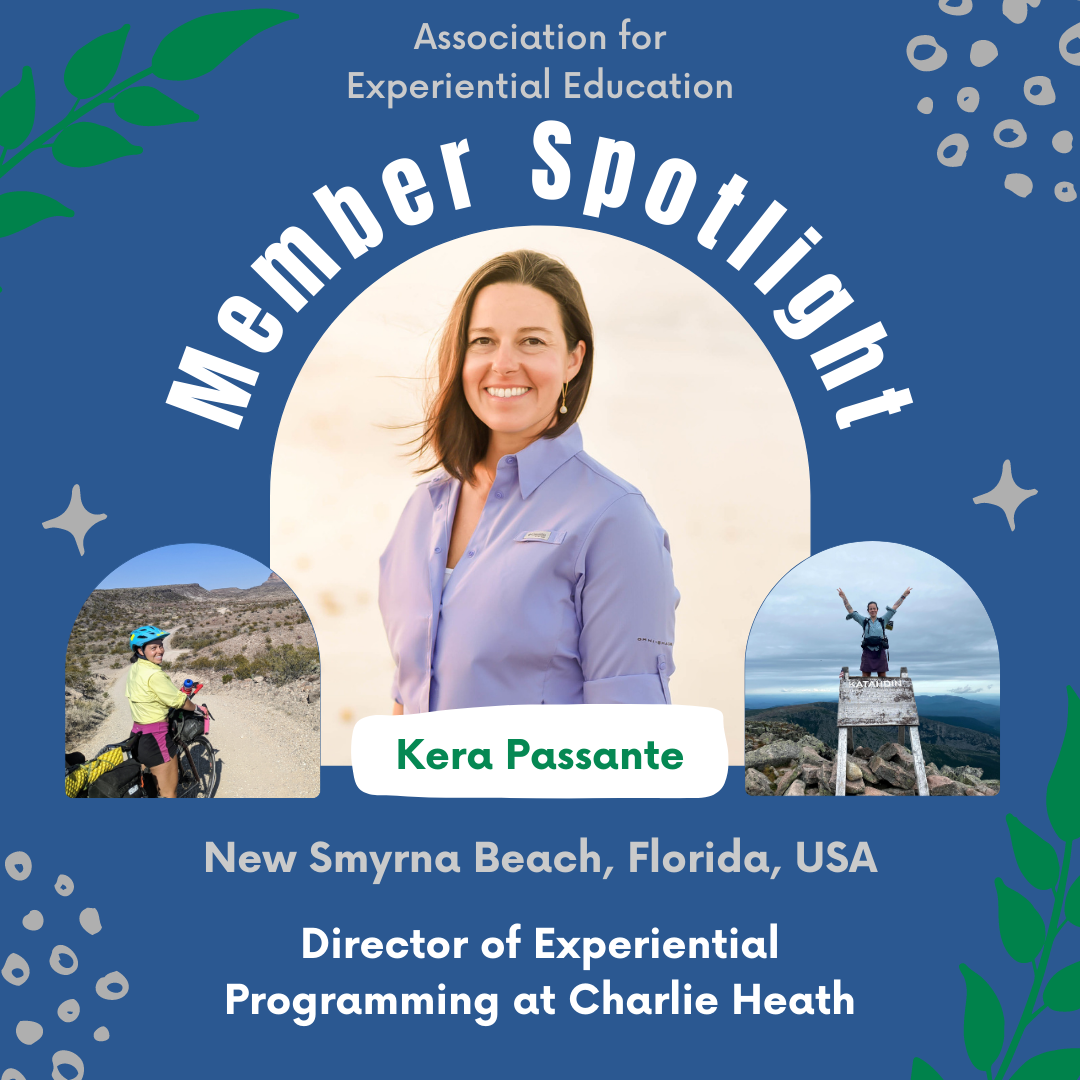 Kera (she/her/hers) grew up in Kennett Square, Pennsylvania and is now based in New Smyrna Beach, Florida. Kera is the Director of Experiential Programming at Charlie Heath.
---
Tell us a bit about what you do at your organization.
Charlie Health is a virtual intensive outpatient program serving the mental health needs of adolescents and young adults in 25 states (and growing!). My job entails creating experiential therapy curriculum and supervising a team of experiential therapists and group facilitators. I never thought I'd be doing my experiential therapy work in the telehealth space, but I find it extremely rewarding and I love challenging my creativity everyday. It fills me with tremendous pride that we are able to provide high quality mental health care to young people in areas where they might not have access and to be able to work with them through the power of experience in the comfort of their own homes.
Tell us more about yourself!
I am a licensed professional counselor and I'm passionate about experiential learning. I'm a clinically certified adventure therapist, certified experiential therapist, certified child and adolescent trauma professional, and a trauma-informed yoga and meditation teacher with over 12 years teaching experience, among other things! I love utilizing creative counseling techniques in my work and training new and future experiential therapists how to help others transform, heal, and grow through therapeutic experiences and integration.
What excites you when you think about the future of Experiential Education?
I think education has failed a lot of students by neglecting experiential learning. I am excited that more and more teachers, mentors, guides, therapists, and parents are learning about EE and sharing it with the younger generations. I feel awe imagining that we are returning to the origins of human learning through the efforts of EE today.
Who or what inspires you?
I am inspired by life and nature in all its forms. I gather creativity, understanding, and peace just by gazing at the stars, witnessing displays of love and nurture, and wondering about the plants and creatures around me.
In your free time, we can probably find you:
Mostly surfing these days, but maybe slacklining, paddling, hiking, riding my bike, or deep in meditation near a tree or stream.
How long have you been involved with AEE?
My first AEE conference was a virtual one in 2021! I first discovered AEE during my graduate study in 2013 when I was building an outdoor adventure program for West Chester University in PA. I utilized the
Adventure Therapy Best Practices
guide to inform my program design.
What is the most rewarding part about being a Member of AEE?
Meeting other adults who value play and exploration.
I'm an Appalachian Trail thruhiker and U.S. cross country cyclist!
---
---
Current AEE Members - don't forget that you can connect directly with members through the Member Directory (just log in!).
Not a Member yet? Learn more & Join!
Members: want to be featured? Find the link to submit your story in your Member Compass.