Back to AEE Store
2021 Conference Workshop Recordings
International Conferences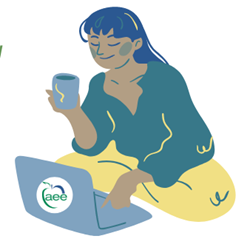 LEARN FROM HOME!
2021 Virtual Conference Workshop Recording Package
From November 11-14, 2021, AEE's 49th Annual International Conference convened attendees to promote, define, develop, and apply theories and practices of Experiential Education. With over 500 attendees from around the world, we united together online and participated in workshops focused on Risk Management/Safety, Experience-Based Training & Development (EBTD), COVID-19 Issues, Outdoor & Adventure Education, Classroom Education, Higher Education, Therapeutic Adventure & More!
Because the conference was entirely virtual, we were able to record workshops, keynotes, and events and make them available for on-demand viewing. Below you will find the list of recordings of programming from our virtual conference that you will be able to view should you purchase access.
Pricing:
FREE for AEE Members (Members: Log in to your Member Compass and head to the Member Resources page to find your access link!)

$50 for Not-yet-Members
What's Included:
-> Access to 77 educational Workshops Listed Here
Access 77 Experiential Education Workshops on topics like Risk Management, Outdoor & Adventure Education, Classroom Education, Higher Education, Therapeutic Adventure & More!
Workshops are the foundation and the fulcrum from which attendees and presenters alike are able to rejuvenate and sustain momentum in this great work. They provide a time to present our collective resources and knowledge to elevate and advocate for Experiential Education. Presentations are rigorously reviewed and evaluated, as we strive to make sure our workshops are the most informative, innovative and entertaining in our industry.

Don't just take our word for it...here's what attendees of the Virtual Conference had to say about their experience:

"I was really motivated and shocked that a virtual conference could be so interactive and inspiring!"
"I felt refreshed and gain new knowledge from the sessions I joined as well as having a better understanding of what is happening internationally."
"Inspired!  Encouraged! Excited about continuing my work with students and staff!  I found my people!  Thank you so very much!"
"I thought it was a great conference, by far the best virtual conference I've attended so far this year. I was expecting to gain a lot from the conference but it honestly surpassed my expectations"
"My expectations were exceeded. I attended some of the most engaging virtual workshops I've ever been to. I did not expect to be able to sit through a 3 and a half hour workshop and feel fully engaged, but the presenters made it easy. Thank you for putting it together!"
"I discovered an amazing and sincere community. I connected with people who will be able to help me in my journey and with whom I want to create something, even though they are on the other side of the globe."
---