Back to AEE Store
Donation - SEED Fund
Donations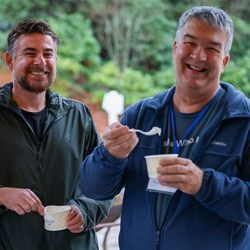 Our roots run deep. Holding us firmly in our principles of Experiential Education. Soaking up knowledge and nutrients to make us stronger and to allow us to continue to grow. Our roots provide stability. Provide connection to place. Provide a solid foundation for us to expand.
You are one of AEE's many roots.
Over the last 50 years, much like a tree, we have weathered all seasons and a few storms but have flourished through it all. We are no longer exclusive to challenge course practitioners - our branches include forest school teachers, corporate training officers, internship coordinators, and circus arts instructors . We have reached far beyond North America and now have members in over 25 countries. We have been able to expand access to events and resources through this new virtual world. AEE is on stable ground with branches that continue to reach far and wide.
We have really branched out.
As we look forward with dreams and hopes, we face questions and challenges too. How do we support our mission to elevate and expand the global capacity of experiential education? What can we do to continue building our inclusive and accessible community? In what ways can we support the academic research, publication and dissemination of authoritative information of experiential education? And in what new ways can we present our collective resources and knowledge to supportive public audiences?
Come help us plant a SEED.
With your support, we hope to imagine a firm growth plan, assess what resources we might need to achieve that growth, and ultimately re-envision AEE for the next 50 years. Our Board of Directors Finance Committee has been developing a proposal to build the financial capacity of the organization to further its mission, expand reach & maximize impact while ensuring justice, equity, diversity & inclusion. This could require professional expertise from external resources as we build a sustainable endowment to provide organizational resources to offer grants, scholarships, and help to deliver impact initiatives on a global scale.
Be a part of AEE's Future!
---